The fabulous event organized by the wonderful Jennifer @ Fandom in Stitches started TODAY!!!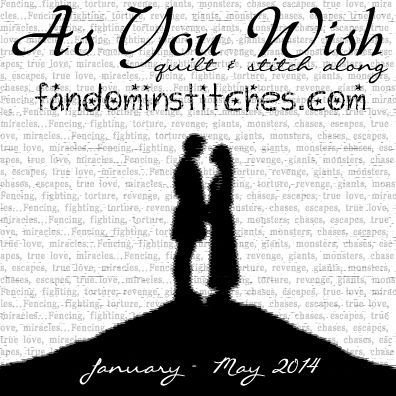 Click
HERE
to go and check out the great first pattern (patterns actually) of the sweet Princess Bride herself, Buttercup!!
I am really excited because now I will be able to share here some pictures (soon) of the blocks I made!!
Since I am one of the designers (more to come soon, so stay tuned) I has been involved in the preparation of the event so I have been stitching and piecing blocks for about a month already so I have few finishes to share in the future!! Soooooo exciting!!!
It's going to be a fun event, so please
go and check all the details HERE
and join us in this journey to find our True Love!!
P.S. If someone is wondering, I am making the Book Layout!! It's amazing!! I already made one block (that I cannot share yet) but it's an easy but very effective layout for this quilt... I highly recommend to try it!! :)